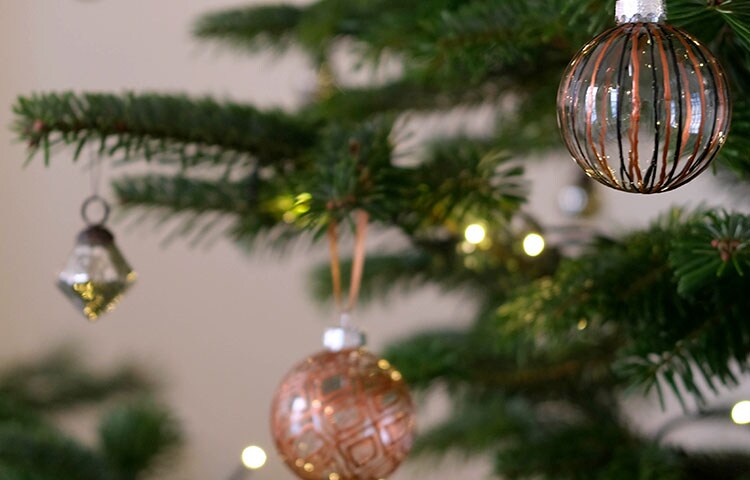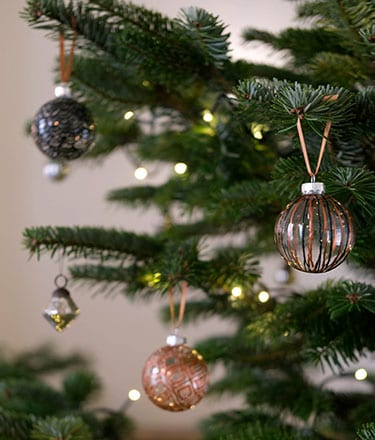 All Dressed Up
Who can deny the joy of putting up your Christmas tree, the ultimate marker that Christmas has officially begun. A proud declaration of the intention for merriment and cheer. From the excitement of finding the favourite baubles to the furious un-tangling of the fairy lights there's something magical about dressing your Christmas tree that evokes feelings of nostalgia of Christmases' past and the excitement for what is to come.

We're so enamoured by the art of Christmas tree dressing that we've pulled together a few tips to ensure that your tree is the best dressed around.


Placement is key

Where your tree makes its new home should be carefully considered. May we suggest a window positioning to ensure that your hard work is admired by passers-by, a hallway to create a grand first impression or a snug living room to be the focus of cosy evenings. Once chosen, it's time to fluff the branches- that's technical speak for pushing out the branches to ensure an even appearance.


Find your best angle

A tree pirouette is a must. Treat your tree as if you are painting a portrait and rotate your chosen tree to ensure that its best side is on display. Keep turning until you're satisfied your tree is sitting pretty.


Let there be light

Start with the lights. Begin at the back (so as to hide any wires and plugs) and then entwine the tree in fairy lights aplenty. Top tip- Save yourself a decorating breakdown and plug them in and check they work before you begin wrapping them around your tree.
Pick a theme

Lay out your decorations in preparation to see what you're working with. We're not ones for matchy-matchy, but we tend to think in odd numbers particularly when it comes to colour palette to ensure all your ornaments sing. This year we're partial to geometric shapes and plenty of metallics with a 1940's twist of glamour.


Start high

Don't be fooled into thinking the Christmas tree topper is the final touch. When a tree is full decorated it can be a real art to place the topper, the risk of ruining all your handiwork isn't worth thinking about. Play it safe and follow the rule of top to toe.


Order please

Try to decorate with one item at a time, so that's all the big baubles before moving on to the small baubles. It helps create an even spread and avoids bauble-bare patches. Stand back and keep assessing your progress to ensure your tree is just so.


Finishing Touches

All that's left is to pile up the cream and black presents, put the kettle on and light a Pine & Eucalyptus Home Candle might to really get you into the festive spirit.