You can't hurry love – or magic, it seems. Creating a Jo Malone London Candle is a lovingly lengthy affair that requires the utmost care and patience. Crafted in a converted dairy on Lord Cowdray's estate in the rolling South Downs, modern technology has been side stepped in favour of a handmade approach to ensure that every Jo Malone London Candle is just so. And, by handmade, we mean quite literally that – each candle passes through 16 pairs of skilled artisans' hands.
Our approach to candle making is a masterclass in science and artistry. Of course, there are easier ways to do it, but you should know by now that we don't believe in taking shortcuts. Our candles undergo careful experimentation to ensure they emit that unexpected, timeless scent Jo Malone London is renowned for. Each candle is unique and has undergone the same rigorous fragrance development process as our coveted colognes.
Once the development is all ticked off, it's time to hit the production line. Fine fragrance oil is blended into slowly warmed wax – we use a unique blend of qualitative waxes for a stable burn – to create a custom blend that is then decanted by hand into warmed individual glasses. Think of it like pouring the most exquisite hot chocolate.
For each newcandle the wax composition is altered in order to suit the fragrance oil and a cotton wick selected especially from a short list (ok long list) of 400. It's a meticulous process that can take years to crack.
"Each candle passes through 16 pairs of skilled artisans' hands"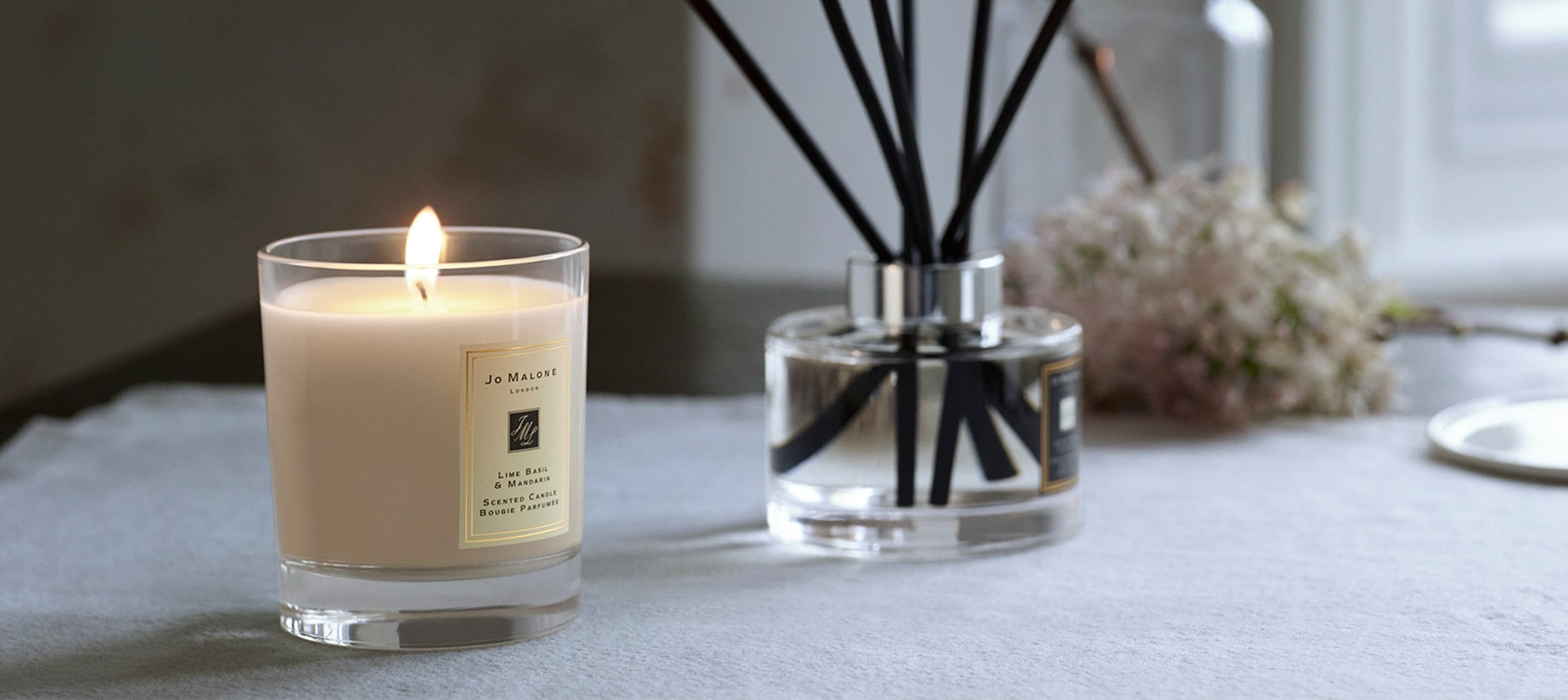 Next up is the tricky task of setting the wick. It's a finicky responsibility that requires the steadiest hands in the business. Each wick is placed by hand into soft wax at the heart of the candle to ensure an even burn.
Although no two of our candles burn in quite the sameway – that's the beauty of handmade – a Jo Malone London Candle has serious staying power both when it comes to burn and scent diffusion. Quite right too, with a process this laborious, we wouldn't settle for less.
After drying for an arduous 72 hours, Jo Malone London Candles undergo the last hurrah. They are flashed with an intense heat to ensure the tops are pristine, and the wicks are trimmed to a neat 6mm. A label is then hand applied to the elegantly understated glass holder, which is then polished and buffed. And, finally, for the charming finishing touch, the placing of the silver lid complete with a black grosgrain bow – a ritual so momentous you'd almost expect a heavenly choir to burst into song.