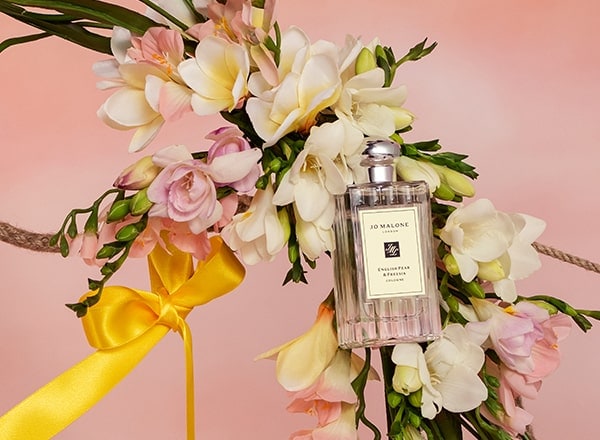 Céline Roux discusses our forever favourite, English Pear & Freesia. 'English Pear & Freesia was actually the first fragrance I worked on when I joined Jo Malone London, so it has a special place in my heart. I had just moved to London from New York during the fragrance development and suddenly found myself in a different city discovering English gardens and Romantic poets. English Pear & Freesia is all about the enchanting appeal of an English orchard, right at the point that summer turns into autumn. We were inspired by the image of fruit trees laden with juicy, just-ripe pears, and also by the great English poet John Keats' poem, To Autumn, which talks about ripe fruit and flowers at this magical and whimsical point of the year,' explains Céline.

'It's incredibly evocative; when you smell it, you're instantly transported to an English orchard.'
The result is a cologne inspired by orchards steeped in golden sunshine. 'English Pear & Freesia, our pear note emulates the orchard-fresh appeal of the King William pear, the quintessential English pear that grows in the UK. The King William pear is distinctively bell-shaped and turns a glorious blushing golden when ripe. Pristine white freesias are their floral companions. I've always found these flowers to be so captivating, blooming pure white on top of arching green stems; fragrant and always elegant, which is why they are such favourites in English gardens, floristry and fragrance.'
The pear note at the top of the fragrance is wonderfully fruity and luscious, and is softened by white freesias, which have a delicacy that is more common with wildflowers than classic, heavy florals. 'In the back of the fragrance, amber and patchouli add a touch of sensuality; nothing heavy, but enough to provide comfort and longevity. There's also a hint of rose in the heart of the freesia, reinforcing the floralcy that makes it feel a bit like a modern chypre, combining fruit and flowers over a warm, comforting base,' notes Céline.
This being a Jo Malone London fragrance it's typically characteristic: 'It's incredibly evocative; when you smell it, you're instantly transported to an English orchard. It follows our love for the unexpected by using unusual key ingredient combinations. It has that freshness and elegance we're known for.' And 10 years since its first development it remains a firm favourite. 'Ultimately, it's just such an appealing and wearable fragrance, which is something all our fragrances strive to be. It's luscious, golden and delightful. I believe that it's remained popular through the years because of its universal elegance and distinctive freshness. It's unique and distinctive, but not in an outlandish way.'
Our new Global Ambassador Adwoa Aboah also agrees. As the face of the latest 'English Pear & Freesia campaign shot by photographer Tim Walker, she counts herself officially struck by the enchanting scent.