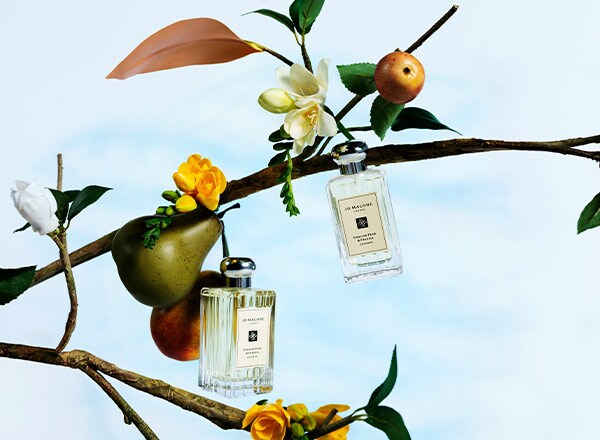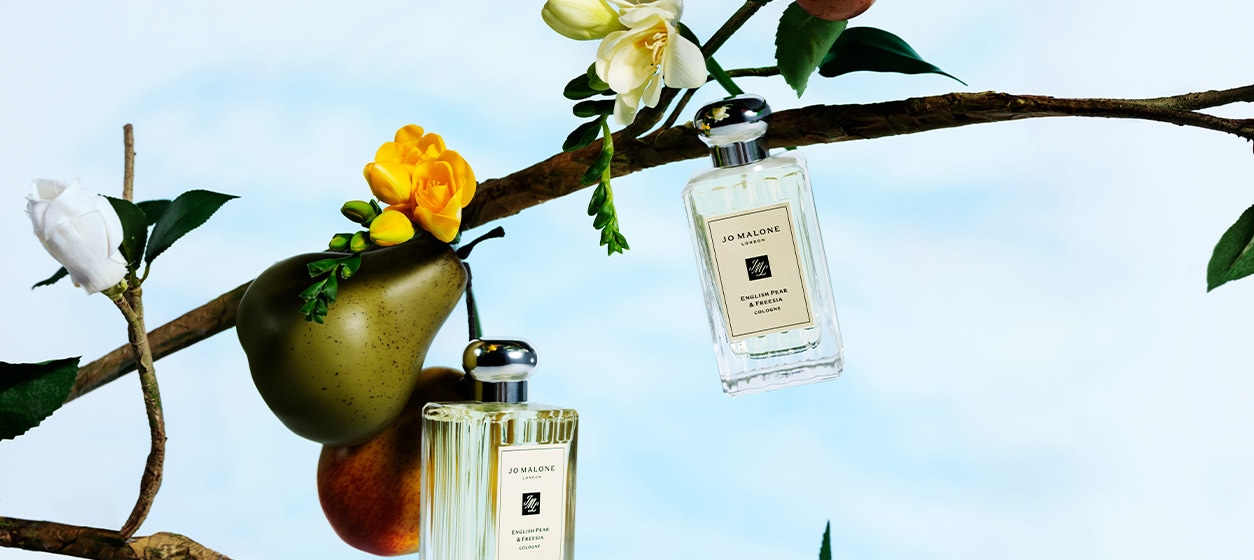 Orchards awash with golden sunshine. The sensuous freshness of just-ripe pears wrapped in a bouquet of bright white freesias, their unmistakeable blooms radiating innocence and a delicate cool touch. Mellowed by amber, patchouli and woods. The scene is set, for our cherished English Pear & Freesia where unexpected fruitiness dances with elegant floral notes. Discover why we're forever enthralled by this golden scent, as told by Jo Malone London Head of Fragrance, Celine Roux.

English Pear & Freesia captures the fleeting romance as autumn steps into view and colours morph, deepening with the maturing autumnal sun. 'The scent is all about the enchanting appeal of an English orchard, right at the point that summer turns into autumn. Inspired by fruit trees laden with juicy, just-ripe pears and by the English poet John Keats poem, To Autumn.' Explains Celine Roux.

With an English Pear accord at the top of the fragrance that's wonderfully fruity and juicy, softened with the scent of cool, white freesia accord, it has a delicacy which has made it a firm favourite some ten years on from its creation. 'It's just so comfortable and wearable; it's also unique and distinctive, but not in an outlandish way. It's all about the balance of fresh fruit and flowers over the warm, sensual base.' Says Celine Roux.
The versatility of the scent, true to all our scents, mean it's a fragrance for everyone. It's the individuality the scent encourages that we celebrate. 'Some people get more of the cool florals, others get more of the juicy fruit. I think that's another reason why it's so well-loved: it's not a heavy floral that stays floral no matter what you combine it with. It has lots of different facets that come out depending how you wear it. It's different for everyone.'

And this being a Jo Malone London scent, naturally the inspiration lies in our British roots. 'We used the Williams Pear for our pear accord, which is the quintessential English orchard pear that's been grown in the UK for more that 250 years. It's distinctly bell-shaped, deliciously juicy and turns a glorious blushing golden when ripe.' It's partner in scent is the freesia, a favourite in English gardens. 'I've always found these flowers to be so captivating, blooming pure white on top of arching green stems; they're heavenly fragrant and always- elegant.' Like many of our fragrances, it's incredibly evocative: when you smell it, you're instantly transported.

We'll meet you in the orchard.