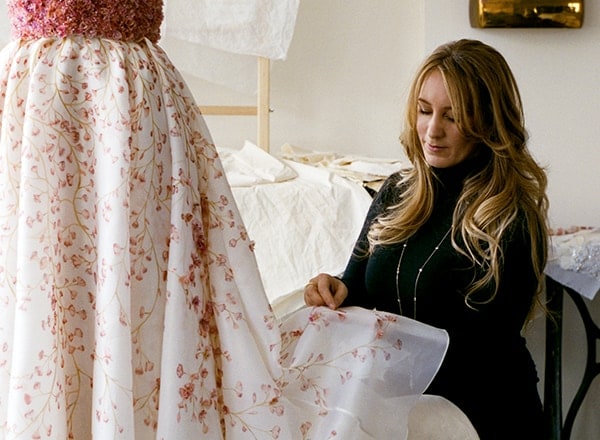 The world of weddings gives us a free pass to justify fulfilling some of our wildest dreams. With over 25 years' experience Suzie Turner has a standout relationship with British craftsmanship, taking the brave move to dress brides for their big day in themost beautiful dresses one can imagine.
Consumed by a love of detail, couturier Suzie Turner uses detail and outstanding British craftsmanship to create some of the most beautiful dresses imaginable. With 25 years experience, each dress she creates is acelebration of traditional skills and painstaking laborious hand embroidery, from sweepingly fabulous evening gowns to the exquisite wedding dresses for which she has become known. A label alone takes five days to hand stitch. 'Each stitch is done here;each bead is applied and hand-knottedhere.'
The average gown takes approximately fourmonths to complete, although the blossom-inspired dress she's currently working onis in its eighth month, with 3,000 petals still to be added. It's this commitment to meticulous detail which first caught our attention. Along with the fact that she burns Jo Malone London Candles to help inspire her in her East London studio. Peony & Blush Suede and Pomegranate Noir depending on her mood.
"Fragrance and fashion are entwined –you wouldn't wear one without the other"
Leaving school at 15,sewing was all Suzie knew. 'Mymother ran a soft furnishings business, so I was using an industrial sewing machine at age 12. When I left school and headedto the Jobcentre,it dawned on me that I didn't have any other skills beyond sewing;I couldn't read or write. So I applied to work at a tailors.' Working 14-hour shifts,six days a week,helped Suzie learn the full grammar of tailoring, and she was determined to master every element.
It was the endless appeal of love stories that drew Suzie to bridal. 'Everyone deserves their moment, and it's an incredible pleasure that I can be a part of that. It's so special that I can help a bride realise their dream, and that my designs will also always be part of the recollection.'
Because each piece is one of the kind, it's the perfect canvas foraddingpersonal touches. 'I'll often embroider a message insidea dress,' Suzie explains.'For one,I
turned the wedding vows into a poem and embroidered that onto the fabric. I often encourage brides toalso consider scent when designing their gowns.Fragrance and fashion are entwined–you wouldn't wear one without the other.' We couldn't agree more, but when it comes to which scent to choose to match your wedding style, Suzie recommends an explorative approach. 'You have to be open minded as a bride. But what's more special than combining two scents to create your own bespoke fragrance that will always bring you back to that day.' For Suzie, the most romantic scent is Velvet Rose & Oud Cologne. In fact,it's so resonant for her that she keeps it private: 'I only wear it for my significant other. It's a scent I save just for him,which I love.'