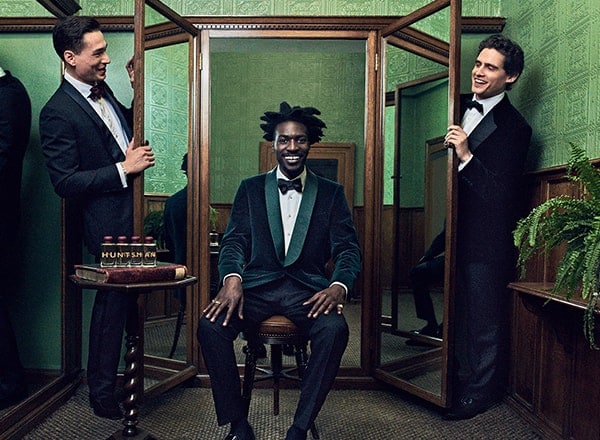 Head Cutter & Creative Director Campbell Carey of Huntsman's Saville Row tailor offers his comprehensive guide to dressing.
SUIT SLEEVE LENGTH
You want to show a ¼ inch to 3/8 inch of shirt cuff to frame the whole suit correctly. For dresswear, it is all about the contrast between black and white, so you can afford to show a little more cuff–up to ½ inch.
POCKET SQUARE RULES
Generally, if you are wearing a pocket square with a suit, try to keep it in the same colour palette as the tie you are wearing –you don't want to detract from the overall look. But if you are wearing separates, it's an excuse to go bold. For added swagger, first spritz it with cologne.
WEDDING WEAR BEYOND THE MORNING SUIT
Avoid checks and pinstripes. Wear something that is non-officey and go for something a bit different. Try wearing a lighter colour such as a pale blue or light grey. Keep it fun as it should be a fun occasion and match that mood with a nice, bright tie.
BLACK TIE DRESSING
My favourite approach is to always go for black or midnight blue but play with textures. So a velvet jacket with a grosgrain facing in the same colour looks really chic and contrasts texturally with a starched white shirt. There is no better look.
BESPOKE, BE SPECIAL
A bespoke suit is cut for you and only you. When something fits you properly across the shoulders, round the collar and the neck, it gives you a confidence and you'll feel relaxed. Just like a bespoke fragrance combination –all Jo Malone London Colognes are designed to be worn alone or combined with each other for something that is uniquely yours. Instantly recognisable. Truly memorable.
THE FINISHING TOUCH
Fragrance. Just as you create an outfit –a suit, a shirt, a waistcoat and a tie –you can add fragrance as the final element to being properly dressed.
"Just as you create an outfit-a suit, a shirt, a waistcoat and a tie-you can add fragrance as the final element to being properly dressed"